Commercial Plumbing Services in Los Angeles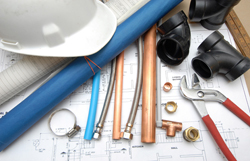 You've probably walked into other businesses whose toilets, drains, or sinks weren't working well and it likely left a bad impression on you. As a business owner, make sure that your plumbing system is working well with commercial plumbing services from My Drain Company Inc. We are a full–service commercial and residential plumbing company that offers a full range of high quality, fast, and honest services for all types of commercial plumbing equipment. From floor drains and catch basins, to dock and deck drains, commercial sewer lines and more.
We've been in the plumbing industry for over 15 years, and in that time we've built up a solid reputation by staying committed to our customers' complete satisfaction and to the quality of work that we do. We're available 24/7 for emergency commercial plumbing repair service Los Angeles, CA and we guarantee that we'll show up to your business the same day that you call. We're fully licensed and insured for your protection so give us a call for any commercial plumbing services that you need including installation, repair, maintenance, and replacement.
My Drain Company Inc. provides quality commercial plumbing services throughout the Los Angeles, CA area. To schedule an appointment, give us a call today.
Commercial Plumbing Installation and Replacement
There are many different kinds of plumbing problems that can develop with components that are improperly installed. In fact, poor installation is one of the main causes of plumbing problems. That's why you should call My Drain Company Inc for commercial plumbing installation service in Los Angeles, CA. We'll help you find the perfect component that you want that fits your business' needs as well as your budget.
We can also talk with you but the possibility of replacing any of your plumbing system if it is getting old or has started to require more repairs. We provide total commercial plumbing replacement in Los Angeles, CA for all types of equipment including commercial water heaters, drains, sewer lines, grease traps, and much more. Call us today to learn more.
Commercial Plumbing Repair and Maintenance
Typically, commercial plumbing systems experience a lot more wear and tear than their residential counterparts do. If you have a drain or sewer line that is constantly clogging or any of your business' toilets or faucets are leaking, call the commercial plumbing repair experts at My Drain Company Inc. We can handle any problem that you might be having.
If you're ready to invest in the future of your business' plumbing system, then maintenance services are a great idea. We provide a terrific commercial plumbing maintenance program in Los Angeles, CA which includes annual visits from our technicians. We'll inspect, clean, and tune–up your entire plumbing system and let you know about any small problems that we found so you can approve repairs. Doing this could reduce the need for repair, increase the effectiveness of your plumbing system and also keep it operating for longer.
Call My Drain Company Inc. today if you're getting ready to open a new business and you need it plumbed, or if you need commercial plumbing repair service in Los Angeles, CA for any type of component.