Plumber and Plumbing Services in Los Angeles by My Drain Company Inc.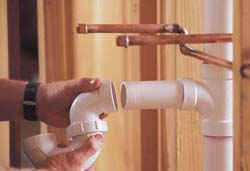 Modern plumbing systems are truly the backbone of every household. Without your bathroom and kitchen fixtures, gas lines, sump pumps, garbage disposal and other critical components, you wouldn't be able to carry out many of your necessary daily tasks. That's why you should call the Los Angeles, CA plumbing experts at My Drain Company Inc when you need any type of service for your home's plumbing system.
Our plumbers are highly trained, fully licensed, and insured for your protection. We know that no one likes to have to wait for a plumber to get to his or her home so we guarantee that we'll be at your home the same day that you call. We're also available 24/7 for emergency plumbing repair service in Los Angeles, CA for those times when your system may break down on you unexpectedly.
Looking for a professional plumber? My Drain Company Inc. provides quality and comprehensive plumbing services throughout the Los Angeles, CA area. Call us today to schedule an appointment.

Plumbing Installation and Replacement
The plumbing components in your home get a ton of use every single day helping you carry out important tasks and projects. Make sure that any new components you need get installed professionally by plumbing installation experts. This is one of the best ways to ensure that your new components will operate well.
Plumbing Repair and Maintenance
If your plumbing system develops any type of problem, give us a call for plumbing repair. We can handle any issue that you're having, including gas line repairs. We respond the same day that you call us and we're also available 24/7 for emergency plumbing repair as well. Call us for any type of problem that you're having, whether it's a simple leak in your drain or you need your whole house re–piped.
Whole House Repiping
If your home's pipes are original from when it was built, it could be a good idea to call My Drain Company Inc for whole home repiping. As your home's plumbing system starts to age, it will likely develop many different problems—ones that you may already be experiencing. By getting repiping for your home, you might be able to avoid many potential problems that could develop. Call us today to learn more.
Gas Lines and Gas Piping
Reliable gas lines in your home are critical to the appliances that require gas in order to operate. But your gas pipes can also be very dangerous if they aren't serviced by a professional. If you need to have a gas line piped through your home or you need repairs for an existing pipe, call the gas line experts at My Drain Company Inc.
Sump Pump
If you're interested in protecting your home from damage from flooding or a burst pipe, a sump pump is a great option. But you need to make sure that you get professional sump pump installation from a professional company if you want it to work well. If you need repair service for your sump pump, we can help with that as well so call us today.
Kitchen Plumbing
Your kitchen is one of the rooms in your home that gets the most use. We offers a full range of kitchen plumbing service including garbage disposal installation, repair, and maintenance. We can also help with any gas line issues for your range or oven as well as complete plumbing installation and repair for all your drains.
Bathroom Plumbing
Your toilet, shower, bath, and sink are all huge parts of your daily life, which is why if you need any bathroom plumbing service, you should call the experts at My Drain Company Inc. We can work with any type of fixture you have or are interested in, including low–flow toilets. If you have a clogged drain or if you're remodeling your bathroom, don't let anyone handle the project except for our expert plumbers.
Main Water Lines
Your main water line is the lifeline for your home delivering many thousands of gallons of water into your home each year. If you need water line repair or installation, call My Drain Company Inc. Whether you've lost water pressure in your home or if your water line is leaking, we can handle the job.
Leak Detection and Slab Leak Repair
Leaks can be devastating to any homeowner. If you've discovered a water leak somewhere in your home, the case of the leak may not actually be close by. Here at My Drain Company Inc., our leak detection experts specialize in quickly finding the cause of leaks. If you need slab leak repair in Los Angeles, CA, we offer that as well. Call us today!
For all your plumbing services in Los Angeles, CA, contact the professional plumbers at My Drain Company Inc.